Trent Reznor's Multi-Million Dollar Apartment Goes on Sale
Everyone has heard stories of the crazy lives of rock stars, but the reality is that behind every Clapton-esque drug freak out or Hendrix-style acid trip there are real people living real lives. They own real estate, cook themselves meals and try to manage their home and family lives. That's what makes glimpses inside their homes so intriguing. How do these people choose to live with all the money they made? And how does that differ from the personas they create on stage?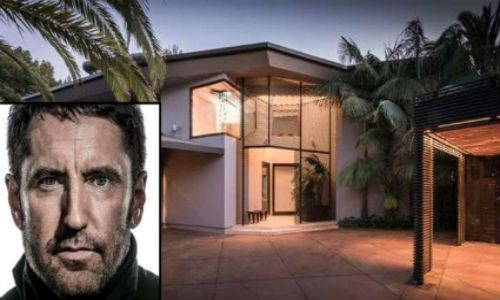 Today, we offer a cool glimpse into the multi-million dollar home of Trent Reznor. Reznor is an industrial rock producer, singer-songwriter and composer who is most famous as the leader of Nine Inch Nails. The band has been going on since 1988, releasing several records that were highly influential throughout the nineties and early 2000s. Anyone from the 90s will remember hits like "Closer" and "head Like a Hole," but Reznor's music would also be familiar to film audiences too. He scored "The Girl With the Dragon Tattoo" and "The Social Network." Reznor is also an independent artist, and he composes for video games.
He is selling his multi-million dollar home in Beverly Hills. The single-family residence starts bidding at $4.495 million, and for the price you get a four bedroom house with five baths. A full fireplace is just a small part of the wickedly cool architecture you'll find in the home.
A public showing was done on April 26th, offering interested buyers an early glimpse at the life of a rock star. Here are some of the pictures showing off how Trent Reznor of Nine inch Nails fame lives his life: